Ad Hoc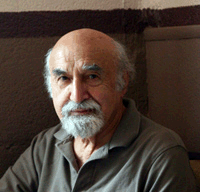 Welcome to Ad Hoc, our popular feature on the art of advertising. We are proud to welcome Dr. Richard Zakia as the author of this page each month. Richard D. Zakia was Professor Emeritus, Rochester Institute of Technology and author/coauthor of several books on photography, perception, semiotics and advertising.
(Photo by Vicki H. Wilson).

Richard Zakia passed away on 12 March 2012. For the next four years, in his honor, we will repeat his columns that began in 2009. He was a great teacher, philosopher, mentor and friend.
His thirteenth column was called Venus with a Mirror. This was the first time that he included a small self-portrait by the artist and a bit of information about him.
Afterimage online has posted a tribute to Dr. Zakia which you may want to read.

c. Corinne Whitaker 2013
Be sure to email giraffe@giraffe.com with your comments about Ad Hoc.
The AdHoc archives are available here.
---
---
copyright 1994 - 2012 Corinne Whitaker