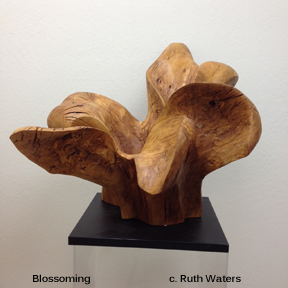 Our guest author this month is the distinguished sculptor Ruth Waters.
"We Don't Forget. We Don't Forgive"
Who said women are paid more than men? I don't think so. I remember when we lived in the Placerville area and I checked out the galleries in Sacramento. The top gallery was owned by Benny Barrios. He liked my work (sculpture, hand-carved in hardwoods), scheduled a solo exhibition, then actually said, "Can you get your husband to front for you? People will buy more and pay more if they think a man has done the work." This happened back in the mid-'60s, but we don't forget or forgive.
In the mid-70's we lived in Northern Virginia, and I was one of the first artists to have a working studio when the Torpedo Factory Art Center opened. Since I worked full-time (you know, a paycheck job) I was carving in my studio on weekends. Too often when I looked up, visitors would say "Oh, I thought you were a man!"
We moved back to the Peninsula in 1976, and by 1977 I had opened my version of the Torpedo Factory, the Twin Pines Art Center in Belmont.
Since then, I've had a number of solo exhibitions in Northern California, with my name on a huge wall sign, and after the second opening reception in, I think, 1989, my husband casually mentioned that at both receptions people had complimented HIM on HIS WORK!!! And we don't forget . .
A couple of years ago I sent a paragraph about the Peninsula Museum of Art to the Stanford Class Notes editor for our year, and added a sentence to say my husband had retired and was playing tennis. When the Stanford Alumni Association publication arrived, the item had been flipped -all about his having retired and now playing tennis, and my art museum was the tagline. (Read: isn't it sweet, she has a hobby, it keeps her off the barstools.) . . . or forgive!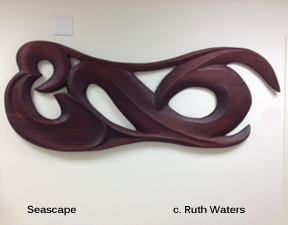 c. Ruth Waters 2018

Giraffe refers visitors to this article from The Art Newspaper, verifying statistically what women artists know from bitter experience.
c. Corinne Whitaker 2018