Digital Sculpture
corinne whitaker
---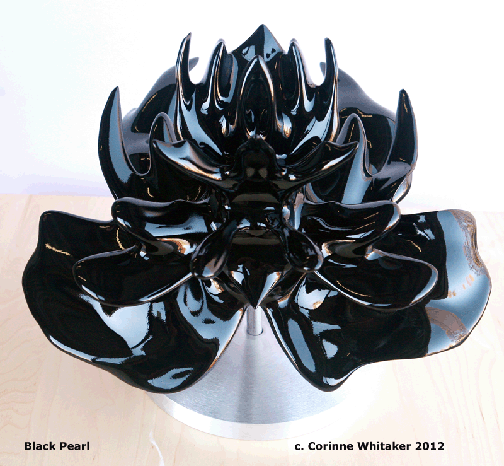 We are delighted to show you "Black Pearl", a totally machine milled 3D sculpture. Black Pearl measures 18"h x 20"w x 20"d and is a 3D printed plaster based sculpture with a porcelainized finish. It sits on a steel base and can be seen at the Paul Mahder Gallery in San Francisco.
c.Corinne Whitaker 2013

Updates
Some recent articles on this rapidly-expanding field:
You can now have a 3D printed replica of yourself made. All you have to do is travel to Tokyo, reserve time for your 3D portrait to be taken, and then wait about a month for tiny mini you to arrive. It will cost you about $500 USD, not counting a few minor things like airfare, hotel, etc. With a little patience you can wait for the process to arrive over here in the USA. At the rate things are moving it shouldn't take too long.
Click here to see one of the more intriguing uses of 3D printing in art. These pieces were actually milled in steel. They can be seen at the Matthew Marks Gallery in New York.
The San Francisco Chronicle adds their voice to the growing body of work about less expensive 3D printing machines and their availability to the public.

Here are some earlier articles that I thought might be of interest, to those of you who are new to 3D printing:
A You Tube video explains the process called SLA.
Another YouTube video shows how a laser-scanned statue is milled in 3D.
"Explaining the Future" goes into some of the different processes in detail and is perhaps the best introduction for you into the medium.
---
want to know more about the art?
about the artist?

email: giraffe@giraffe.com

---
copyright 2012 Corinne Whitaker