All About Women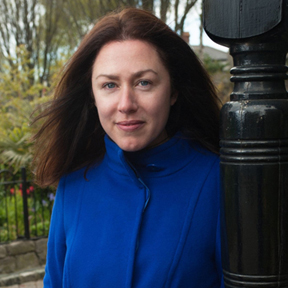 Our Woman of the Month Award for November, 2018, goes to Caitriona Lally. Lally is not only the author of "Eggshells", which just won the prestigious Rooney Prize for Irish Literature at Trinity College, Dublin. She also works as a janitor at the same college, and therein lies a tale of grit.
Note: Woman of the Month now has its own page in the giraffe.com archives section.
A 42-year-old Israeli computer scientist at M.I.T. has just received the Cooper Hewitt Design Award for interaction design. Dr. Neri Oxman has developed a new field called Material Ecology, which uses natural substances like slime molds, monarch butterflies, and silk worms to create amazing structures. Her group works with eclectic disciplines, like glass blowing and "wet artificial intelligence". Read more to access the remarkable exploits of this woman. (Thanks to HG for this.)

Bowling Green State University has published a study showing that between 2005 and 2013, 405 cases of forcible rape by police were reported in the United States. Additionally, 636 cases of forcible fondling were documented. The data were difficult to obtain, since no reliable statistics on police misconduct are produced. The results, known as hidden offenses, had to be compiled from public documents, google searches, and officer surveys. Victims, in fear of retribution, are reluctant to come forward, but it is assumed that the numbers are far greater than is known.

In one of China's busiest cities special subway cars have been reserved for women only. The purpose was to protect women from unwanted sexual advances and harassment. The problem is that these cars are often filled with men. According to the New York Times, China "is a country with too many laws but, in many areas, too little enforcement. The government bans gender discrimination but does not define what it is. Those who complain risk getting punished. As a result, women who have been sexually harassed rarely file police reports. Offenders are almost never brought to justice".

The publication Elle held an event called Women in Hollywood. Lady Gaga, one of the honorees, created a stir when she appeared in a hugely oversized jacket and pants suit designed by Marc Jacobs. In a raw and emotional acceptance speech, the performer commented, "Today I wear the pants". She certainly grabbed the spotlight.

Abiy Ahmed, the Prime Minister of Ethiopia, has just awarded one half of his ministerial positions to women, including Minister of Defence. Mr. Abiy explained that women were "less corrupt than men" and would be of immeasurable importance in establishing peace and harmony in the country.

In the U.K., an independent inquiry authored by Dame Laura Cox, a retired High Court Judge, describes members of Parliament and their senior staffs as "groping, vulgar, serial sexual harassers". According to the report, female clerks face a "frat-house-from-hell" environment, while the women employed at the House of Commons are regularly mocked, insulted, and verbally abused in an "insidious and pervasive miasma of male privilege". Her study was backed up by a BBC investigation that portrayed a dismal atmospere of male entitlement.

Female stunt performers are exceptionally rare in India, where only 8 of 700 stunt actors are women. In this video, two of the women show how they keep in shape in this male-dominated industry.

An American designer has come up with what she calls a "night loo". The portable toilet is designed for women in refugee camps who face vioence if they have to go outside at night. The night loo is a reusable box with polymer beads that soak up odors and liquids and then can be emptied in a public toilet during the day.

Beginning next year, Formula 1 racing will find itself hosting an all-female motor racing series. Up to 20 women will compete for the $1.5 million dollar prize. Entrants will not have to pay to participate, and all cars will be identical.

Sofia Bonati, an Argentinian artist, draws portraits of women against backdrops of intricate patterns, mazes, and flowers. She sees her work as celebrating the power and complexity of women.

1/3 of schoolgirs in the U.K. report being sexually harassed while wearing their uniforms. The youngsters report men trying to take pictures up their skirts or grope them. It appeared that their uniforms made them a target, particularly for older men.

A physicist was ridiculed for claiming that the brains of women made them less capable physicists and explains the lack of women in the field. A counterargument pointed to exterior problems, like parents pushing their sons into science and technology more than their daughters, and hostile working environments for women who do go into STEM.

The Brooklyn College Professor who wrote that "If someone did not commit sexual assault in high school, then he is not a member of the male sex" is now claiming that his words were satire. Perhaps this non-apology was forced when students began clamoring for his dismissal.

One woman's tale of how she became homeless and handcuffed will break your heart. More importantly it wakes all of us up to the lack of support for the less fortunate in our society. Too many of the so-called shelters appear to be nothing more than slop houses for easy victims. If companies can build billion-dollar headquarters, maybe they can also contribute to the welfare of those who have fallen off the economic ladder entirely?

c. Corinne Whitaker 2018

Be sure to email giraffe@giraffe.com with your suggestions, be they articles, videos, images, cartoons, music, or comments, so that we can share our celebrations and our concerns with each other.