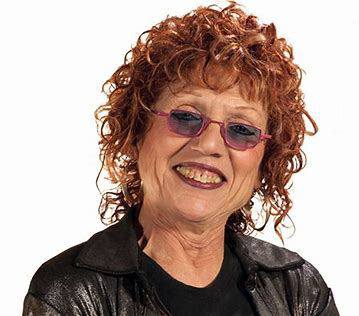 All About Women
Our Woman of the Month Award for September, 2020, goes to Judy Chicago, pioneering feminist artist. Read an interview with her here.

Haruko Kawakami has been writing novels in Japan that earned her a band of enthusiasts. Her newest novel, "Breasts and Eggs" (Chichi to Ran, in Japanese) addresses the problems of women dealing not only with the covid pandemic, but with the expectations that they will assume other major burdens at home, like child care, housekeeping, cooking, looking after men, not to mention their own jobs. Kawakami writes "the rot starts from the top", prompted by a photograph of the government's first, and all-male, coronovirus task force. Her protagonist is an older bar hostess and single mother, depressed as she realizes that she is being replaced by male desire for younger women. Her obsession over "nipples and sagging boobs" leads her to consider breast implants so she could have the "kind of body that you see in girly magazines". In the heavily patriarchal society of Japan, the book sold more than 250,000 copies in 2008 when it was first published, in spite of comments like "unpleasant and intolerable". Several of her books will be published over the next 2 years in English.

An analysis of 194 countries, published by the Center for Economic Policy and the World Economic Forum, reports that nations led by women had demonstrably better results fighting covid 19 than did countries led by men. Looking at leaders like Germany's Angela Merkel, New Zealand's Jacinda Ardern, Denmark's Mette Frederiksen, Taiwan's Tsai Ing-wen and Finland's Sanna Marin, the study foundl sigificantly lower death rates from the virus. The researchers cited the " proactive and coordinated policy responses" adopted by the women, including early lockdowns. Women leaders, it appeared, responded more decisively and faster than their male counterparts.

Samantha Sen got up early one morning to go out for her morning run. Instead she was found dead in a nearby creek. Sen was 43 years old, a scientist and mother of two children ages 12 and 6. Her killing is a tragic reminder of the violence visited upon women runners. Indeed a study conducted by Runner's World in 2016 revealed that 43% of women who run are faced with harrassment, compared to only 4% of men. Born in India, Sen moved to Plano, Texas, in 2004. She was a cancer researcher during most of her career.

Women on the Navajo reservation are suffering hunger and neglect, made worse by the covid pandemic. 463 have died, while 9,139 have been infected by the virus. A journalist discovered that in northwest New Mexico, nearly 350 people over the age of 65 live in 4 isolated areas along the borders of Shiprock. Dozens of them are older than 75. In one case an aging grandmother lives alone with only her 9-year-old granddaughter, the youngster a cancer survivor. They have neither running water nor indoor plumbing, relying on an outhouse situated on uneven ground that has caused the grandmother to fall repeatedly, resulting in hospitalizations. Their only food is a lunch delivered weekdays by a local senior center. Weekends, they have to take care of themselves with the grandmother now in a wheelchair. Furniture and toys are conspicuous by their absence. Another member of the Navajo Nation, in his mid-60's, lives in a shack with dirt floors, no electricity and no running water. He survives by eating processed foods that don't require refrigration. Yet a third fills a bucket with water from an outdoor faucet when she wants to bathe. These elders appear to have fallen off the radar, ignored by politicians and even their own community.

In a related article, murdered indigenous women in California were 7 times less likely to have their killers found and brought to justice. The information was provided by the Sovereign Bodies Institute, a nonprofit research organization located in Humboldt County. The report detailed a tragic absence of data concerning the 105 women from Northern California up to the Oregon border that had been killed or disappeared over the last forty years. In fact, Humboldt, Mendocino, and Del Norte Counties have become known as the "Lost Coast". California houses more indigenous citizens than any other state in the U.S., with 700,000 native people living there. In the larger population 60% of murders are routinely solved, whereas with the indigenous women the figure is only 9%. Of these, 31% of the homicides and disappearances happened to girls 18-years-old or younger, with many of these youngsters living in Foster Care. Some murders are labeled accidental, even if the evidence proves otherwise. The situation has been called "a chronic and pervasive failure to investigate".

A member of parliament in South Korea was criticized for wearing a red dress while attending a parliamentary meeting. At age 28, Ryu Ho-jeong is the youngest member of the National Assembly. Her choice of a colorful dress stood in stark contrast to the dark suits worn by her male counterparts. One news report said that she looked "as if she had come to the assembly chamber to collect payment for alcoholic drinks". Ryu said her dress was specifically selected to challenge the tradition enforced by male members of the governing body and to protest against demands in their society for women to wear lots of makeup and undergo plastic surgery to meet the expectations of men.

An article in Smithsonian Magazine looks into what the first women voters encountered when they went to vote in 1920. Women were told that they needed instructions on how to vote, even in states where they had been voting for years. Difficulties were compounded by regional restrictions on age, race and ethnicity. Some states found ways to block women from voting entirely or otherwise lessen the chances that they could do so. In the state of Georgia only one woman managed to overcome the obstacles. In Chicago, black women and their supporters faced murder, lynching, kidnapping and threats of arson against businesses and homes. In Richmond, Virginia, 3 extra deputies were hired to help white women vote but not one to help black women. Among other issues, a major one in Virginia appeared to be the fear of losing power. That's why it was deemed important to see that white women were encouraged, and black women discouraged, to vote. Other techniques used to discriinate against Blacks included poll taxes, residency requirements, literacy tests, morality clauses, and blunt intimidation.

c. Corinne Whitaker 2020
Be sure to email giraffe@giraffe.com with your suggestions, be they articles, videos, images, cartoons, music, or comments, so that we can share our celebrations and our concerns with each other.