"Dana Schutz", Rizzoli, New York, 2010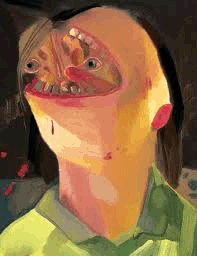 In his introduction titled "Anonymous Genius", Jonathan Foer calls Schutz's work "thrilling, defiant, moving, and unforgettable". Barry Schwabsky speaks of her "creepiness and humor". To those I would add startling, disorienting, even agonizing. Who else has painted a sneeze and a cough with so much vivacity that the microorganisms seem to leap off the page? Yet these are not realistic depictions. They are vague, suggestive, ominously disquieting. It is not only her subject matter - a cow's head on a stump, or the man who looks like a monkey - but the abrupt brush strokes, the bold hues, the refusal to flinch that characterize Schutz's best work.
In pieces like "Dead Zebra" and "Lovers", Schutz seems to tear apart the fabric of being and reassemble it as a dyslexic might. Her palette may be bright, her outlook is anything but. One guitar player, in hot pink and blue/greens, seems to have a mechanical arm, feet that confound, and a pelvis that is obliterated by the instrument. Her "Boy" is excruciating, as a buxom woman lays a severed head onto a tissue-paper body. Think David Hockney, but Hockney with a razor-sharp edge. Schutz doesn't see swimming pools. She sees horrors in pastels. We are carnivores, she seems to be saying, and what we consume is most rapaciously ourselves. Canvases like "Blind" and "Myopic" grab us and won't let go. Then there are the self-eaters, followed by "Eye Eater", "Face Eater", and "Devourer". Schutz doesn't lean heavily on black, or shadows, which makes her paintings that much more devastating. There is Goya here. There is Picasso. There is ghoulishness and implied gore, all in little girl colors. "Self Portrait as a Pachyderm" is simply magnificent.
Schutz lives and works in Brooklyn, New York, combining an East coast cynicism with a California sun-drenched palette. She was born in 1976 - so young to be so disillusioned. She got her BFA from the Cleveland Institute of Art and her MFA from Columbia University. But her sensibility is uniquely her own. Be sure to look at this impressive body of work. Hers is a rare talent.
c. Corinne Whitaker 2011
Note: Viewers might want to compare Schutz's work to that of George Condo.