eMusings
Hummingbird Flutters and Eagle Soars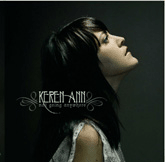 Let's begin first with the hummingbird, that delicate, fragile creature that graces our gardens. In this case it's the garden of the soul, and the hummingbird's name is Karen Ann. Her introductory audio CD was released this past August. Titled "Not Going Anywhere" (perhaps an unfortunate choice for a young pop singer), it makes me think immediately of a fragile creature that wounds easily and needs protection.
Karen Ann, nee Zeidel, was born in Caesaria, not far from Tel Aviv, to a Japanese/Dutch mother and an Israeli father. The family moved to Paris when she was 11. She is the co-writer of songs for the french singer Henri Salvador's 2000 hit album "Room With A View". In 2001 Karen Ann herself was nominated for best female newcomer in France's equivalent of the Grammy Awards, and in 2002 and 2003 nominated for best female artist.
Karen Ann's voice is breathless and tender. You want to fold her in your arms to keep her safe from the world around her. The album is low-key and gentle, a welcome respite from the pounding acoustics currently athrob in the music world. Her lyrics speak to loneliness and regret. "I'm a river with a spell", she writes, and indeed her music casts a sweet spell over the listener. The album's production is a bit tentative, but otherwise a quiet joy.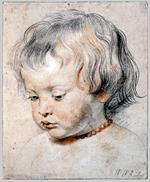 From the gentle hummngbird's perch, we watch in wonder as the eagle soars, the eagle in this case being Peter Paul Rubens. Over one hundred of Rubens' drawings are on exhibit at the Metropolitan Museum of Art in New York City through April 3, in the first major U.S. exhibition of this Flemish artist's work. Rubens' drawings encompassed a wide variety of styles, from the delicate to the powerful. Unlike his paintings, which were frequently executed by his pupils, Rubens' drawings came from his own hand. Although they were often produced as precursors to more complex paintings, they make eloquent statements in their own right. Some have only come to light as recently as 1996. If you cannot get to the Met, the Museum offers a lavishly-illustrated catalog at their website at http://www.metmuseum.org.

c.Corinne Whitaker 2005