eMusings
Passion Fruit
eMusings this month takes a look at three dark tales of passion, each of which asks us to re-examine our ideas about love and obsession, and particularly to peel away the glib exteriors of the human soul. What you find within may upset, disturb, or shock you. The human heart, these artists seem to say, is ultimately unknowable.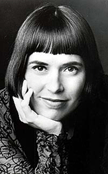 Eve Ensler won an Obie award for her tradition-breaking "Vagina Monologues". With a deadpan presentation and a fierce wit, Ensler took us on a tour around the world to expose attitudes and vocabulary that heretofore would not be spoken in polite conversation. In her newest presentation, "The Good Body", Ensler seems to dig deeper within herself. With less detachment and considerably more passion, she examines the meaning for women of being "good" and the devastating consequences of trying to please someone else's idea of goodness. Some of the material seems distinctly autobiographical and we are left with an admiration for the courage of this woman who puts her inner torments out there so that we can face our own. The lighting and stage sets are more elaborate than "Monologues" although still dramatic and uncluttered. As seen in San Francisco, where it has extended its run, "The Good Body" is appropriate for age thirteen and older - some parents may want to alter that to age fifteen.


Pedro Almodovar has a distinguished history as a Director of poignant films. Although I frequently resist movies with subtitles, "Talk to Her" (2003) packs a wallop that is not easy to dismiss. In subtle colors and cinematography, Almodovar takes us through the loves of two men for two comatose women. The gentle flow of the photography is in sharp contrast to the disturbing questions raised by the film, questions of love and obsession, neurosis, psychopathology, life and death. The fact that Almodovar offers us no easy answers only adds to the film's impact. I suspect that you will walk away, as I did, with a profound uneasiness and the impression that you have just witnessed a master director at work.


Difficult questions in the hands of lesser artists however just don't pan out. "The Shape of Things" (2003) presents us with four characters who act out their uncertainties at a small college campus in California. The basic premise, of love that transforms, becomes progressively more unsettling, particularly in the characterization of Gretchen Mol's manipulative art student. Although some vein of discomfort meanders through the story, the denouement at her final gallery presentation is sharp and dislocating. To some audiences it may seem incomprehensible. To an artist it raises issues of commitment to art versus humanity, and the questionable boundaries of an art that dehumanizes. "The Shape of Things" is not everyone's cup of java, but it does touch upon some fundamental conflicts for artists. Sally Mann's photography comes to mind: could you photograph your own children in the nude with detachment as she does? Is it exploitation of the young in the guise of art? Can we admire the resulting photos, and they are unquestionably admirable, while doubting the wisdom of the parent? "The Shape of Things" is far less subtle and occasionally sophomoric; it lacks Almodovar's delicacy and Ensler's ring of truth. Under more sophisticated casting and directing it might succeed; at the moment it doesn't.
c.Corinne Whitaker 2004