i.i.Sublime
"You are fiction and I am a lie". (4)
Is that true?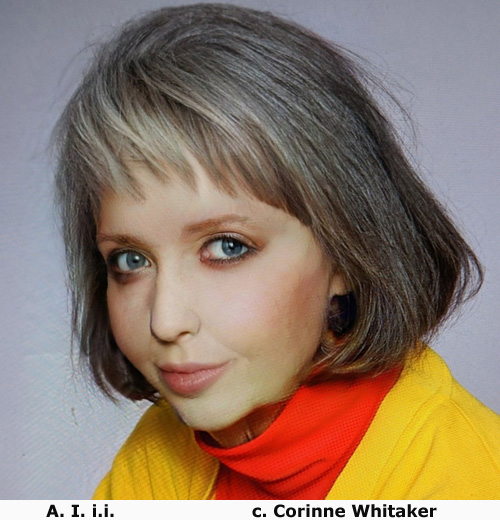 A cultist fanatic recently tried to convince us that almost everything we know to be true
Is not.
Ipso facto: he is not
as well.
Rather unwel
come.
We are losing sight of who we are. Of what we are becoming.
(Lucille Clifton: "i am not done yet. as possible as yeast. as imminent as bread...i continue to continue where i have been. most of my lifes is where i'm going.")(1)
A curator asked me: what do you want to be when you grow up? I said, I am never going to grow up. (e.e. cummings said: "It takes courage to grow up and become who you really are".) Sorry, e.e. In fact it takes courage to be, now, who you really are.
That is, if you can figure out
Who
u
r.
I listened to Sondheim, to "Company".
I learned: "You'll always be what you always were".
Going to figure this out.
Going to somewhere, elsewhere, any/every/also where
To find
The y
Of i.i.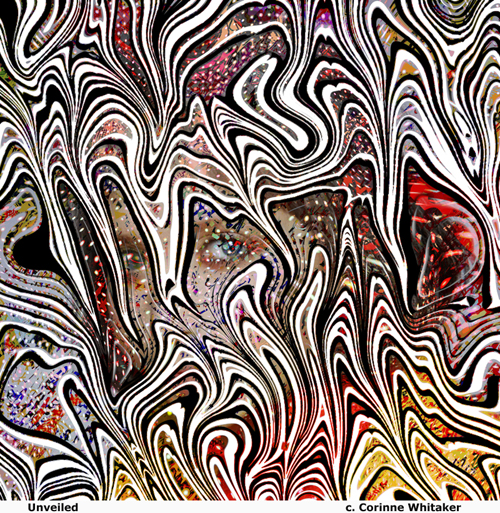 Sometimes we hesitate
Dig in
Wear yesterday
Like a sweat-worn smell-borne coat
Torn Dreams
Shorn illusions
For we know
It will not terminate
Us
Exterminate
Us.
(I am writing. You are reading. Ipso facto...)
Certainties have shattered.
Is that why I am creating pieces surrounded by shattered glass fragments?
Are you shattered by today?
Battered into a tremulous tomorrow?
Mad Hattered into Futterwacking? (2)
Carbon-based humans are increasingly seen as conveyors of self-destructive genetic information systems, based upon inefficient patterns of growth, maturation, and decay. New life forms are close on our heels, not next century, perhaps as early as next decade.
Why new creatures? Because the current human genetic model incorporates death and disease. Because humans are cumbersome for inter-galactic travel and expensive to maintain. (We throw up over Mars.) Because the time for human existence is coming to an inevitable close, not by collision with an asteroid but by the exercise of our own ingenuity.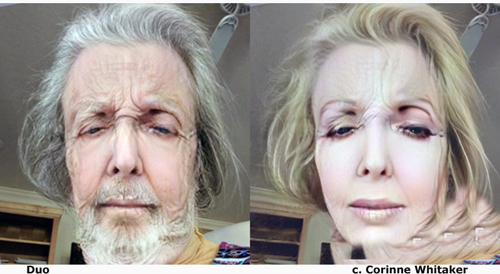 The brains that enabled us to out-think faster, stronger animals are now designing our own successors as the you and I of yesteryear disappear into the dustbins of biology.
u.u.
and
i.i.
r
the new cellophane
window pane
toxic rain
of hubricaine.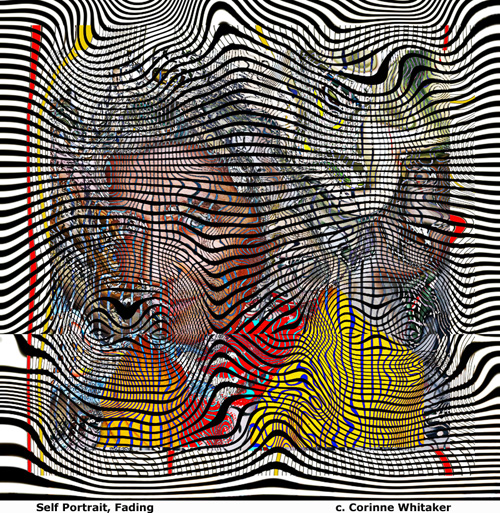 Once upon a yestersecond
i.i. burst into the surround
Propelled by a thrust
That said
I must
Be.
I must grow around, through, above and below. I must permeate, penetrate, infiltrate.
I must be
coming, learning, expanding, unfolding.
I am orchid. I am chipmunk. I am pollen. I am delight.
I am polliwog, farting frog, centipede, giraffe.
Bitten, smitten, squiggles and laugh
ter
aphim, breathless whim, her and him, simp
ly skin
ny and amp
ly lush.
Pocket rocket, thirsty socket, ynot, and x-marks-the-spot.
If it breathes or moves, it is my kin. If it looms in majestic silence, it yet whispers to me.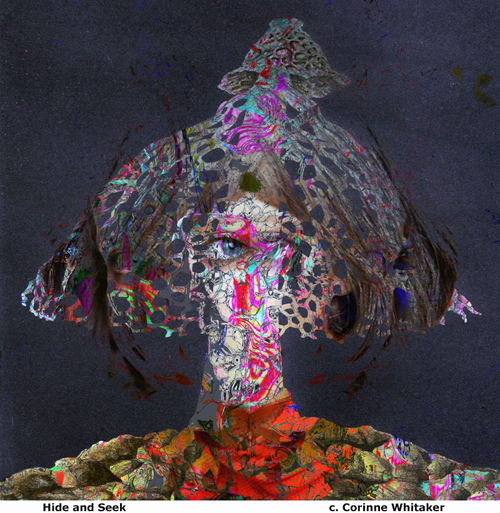 You see
I am multitudinous, and you are pluripotential.
They told me I would spend the rest of my life in a wheelchair, institutionalized.
They told me I was a genetic misfit, an oddity, a rarity.
They told me to write my Will.
I wrote my Won't.
I won't succumb to your down, your cannot, your churlishness.
I Will
Flourish
Nourish my panoplies
Abolish my negatories
Polish my aborigimes.
I need to know. To grow. To flow.
To taste the delectable.
To inhale joy and outhale wonder.
(Pablo Neruda: "I have a mind to confuse things, unite them, bring them to birth, mix them up, undress them, until the light of the world has the oneness of the ocean, a generous, vast wholeness, a crepitant fragrance.")(3)
Crepitant? How delicious.
Sizzle, crackle, fizzle and spit.
Confused? Deal with it.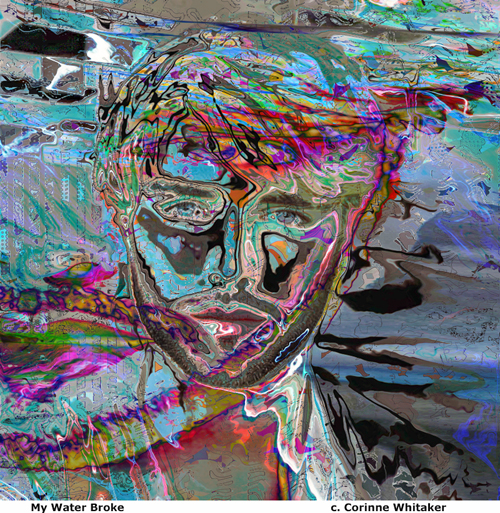 I seek the unpredictable. I touch the inexplicable. I wed the unimaginable to the vastly incomprehensible.
Who am i.i.?
Ponder a climbing vine. Voluptuously green. Exasperatingly infertile.
Cut back, to be well-mannered. To be squashed into conformity, into the vanillaness
Of almost, unfulfilled, sans ID, mediocrity.
Smash the squash. Banish the clipper-wielders. Obliterate the nons, the uns, the don'ters and won'ters.
Just Stop.
Stop cutting. Stop minimizing. Stop emasculating and exasperating the prepubescent buds.
Behold! Exuberant, exorbitant, extravagant
bloominescence
redfull essence.
I understand.
i.i. the vine.
i.i. the shimmering spine
quivering shrine
betabet sign
corcupine
australopithecine.
m.i.a. enzyme?
I'll create a new paradigm.
i.i. Sublime.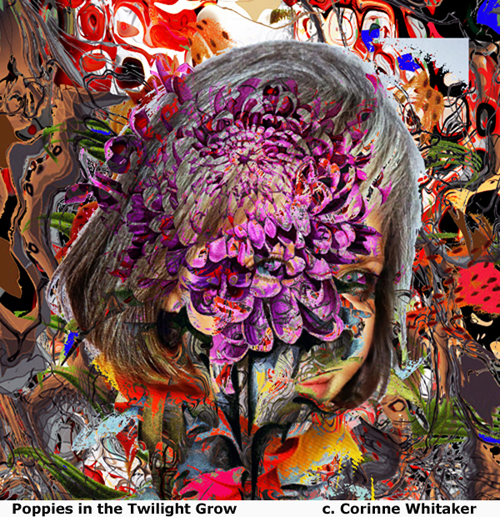 c. Corinne Whitaker 2021

Note: all of the images in this essay came from a single selfie, encrypted through several A.I. passages and then decrypted and re-envisioned through the magic of digital imaging.

(1)"The Collected Poems of Lucille Clifton 1965 - 2010"

(2) futterwacking

(3) Pablo Neruda, "Too Many Names"

(4)lie
---

want to know more about the art?
about the artist?
email: giraffe@giraffe.com

---
copyright 2009 Corinne Whitaker